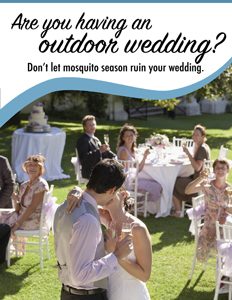 Mosquito Shield, a North Attleboro, Mass.-based mosquito control franchise company, will award one lucky couple free mosquito control service for their outdoor wedding.
The contest, which runs until Aug. 27, invites couples marrying at an outdoor venue this fall or next summer in the North Attleboro area to share their stories and photos of themselves to social media to enter the contest.
"With news of Zika consuming media platforms, and Americans becoming more and more worried about the future, we wanted to get in front of our customers and give them the information they need, without exploiting their fears," says Mosquito Shield Vice President Michael Moorhouse. "Our customers and our community are so important to us here at Mosquito Shield, and this was just one lighthearted way we could give back and provide a valuable, educational service to those that mean the most to us."
Contestants may enter by "liking" the official Mosquito Shield Facebook page, posting a photo of themselves and their significant other to the Mosquito Shield Facebook wall and explaining why they want the service at their outdoor wedding or reception. After posting to the Facebook page contenders also must email their same entry, along with their name and contact information to moshieldcontest@gmail.com.
Once the contest comes to a close on Aug. 27, two finalists will be selected by the executive team at Mosquito Shield. From there, the images and stories of the two finalists will be shared on the Mosquito Shield Facebook page for a vote. The company encourages the two finalists to enlist the help of friends and family in getting the most "Likes" on their entry, as the couple with the most will be declared the winner.
"This contest is meant to be fun and inviting, so we're encouraging contestants to be creative in telling their love stories," Moorhouse says. "The more unique and heartwarming the story, the better chance they will have to advance to the final round."
The social media giveaway comes hot on the heels of Mosquito Shield announcing 10 new locations in the last four months, thanks to an aggressive franchise expansion program. Mosquito Shield continues to offer its exclusive franchise opportunity in markets nationwide, while specifically targeting the Midwest and East Coast.