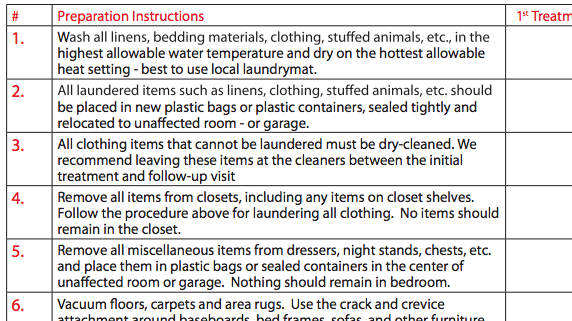 Freedom Pest Control, a central Indiana-based pest control company recently announced their release of a 14-point checklist that's as useful for pest management professionals as it is for their customers. The checklist helps those with infestations treat them quickly and ­efficiently by following the list of best practices for each treatment. The focus, however, is on pre-treatment prep — perhaps the most time consuming aspect of bed bug work. Without the assistance of the customer to help clear away clutter and prepare furniture and living areas for treatment, the amount of time spent at a single account can increase exponentially. The checklist, available here, offers check box columns for both first and second treatments, with prep instructions like (#4) "Remove all items from closets, including any items on closet shelves …" and (#11) "All mattress and box spring covers must be removed from mattresses and box springs prior to [the PMP's] arrival."
The checklist seems pretty thorough to us, so if your company doesn't have such a list and needs to develop one, Freedom's checklist should help. Likewise, if you DO have one (and we're guessing you probably do), perhaps it would be a good idea to peruse Freedom's to see if they thought to ask anything of the customer that never occurred to you. Freedom Pest Control can be found online at gofreedompestcontrol.com or on FB at Facebook/GoFreedomPestControl.
Will Nepper is senior editor of PMP magazine.