For years, Pest Management Professional (PMP) has honored the leaders and legends of the industry in the pages of the magazine.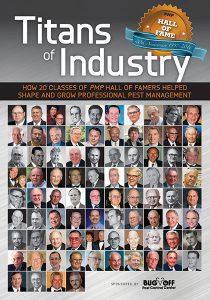 Now you can read about the remarkable achievements of 87 PMP Hall of Fame inductees in an exclusive new book, Titans of Industry: How 20 classes of PMP Hall of Famers helped shape and grow professional pest management.
Titans of Industry shines a spotlight on the pioneers who forever changed the perception of our industry by professionalizing pest management practices.
PMP's commitment to helping professionalize the industry can be traced to 1933. That's when PMP Hall of Famer Al Cossetta launched Exterminators Log — the precursor to PMP.
We continue that tradition now by sharing the rich history of our close-knit industry with you, the all-too-often unheralded professionals who ensure its integrity.
Titans of Industry is available now at our PMP Bookstore, mypmp.net/shop.