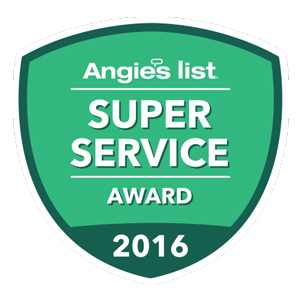 The Super Service Award is the most coveted distinction at Angie's List, a U.S.-based website containing crowd-sourced reviews of local businesses. To be eligible, companies have to meet market-specific criteria that includes an average A overall grade for the review period, a criminal background check and be in good standing with Angie's List. Fewer than 5 percent of the companies are able to hit the high marks.
This achievement is particularly significant as Angie's List experienced unprecedented member growth in 2016. More than 1.6 million consumers joined Angie's List after the company added a new, free membership tier. For more than 21 years, Angie's List restricted access to its verified reviews to consumers who paid membership fees. When the company removed that barrier, some companies worried that the new, non-paying members would not be as engaged as members of the past. Experience has shown, however, that these newly added members are just as engaged – across all age groups – as prior members. Also, because the company continues to adhere to its review verification process, there has been no degradation of review quality.
"Those who accept the award receive, at no charge, a badge on their Angie's List profiles that veteran Angie's List members see as a 'Hire me!' beacon," says Evelyn Miller, a spokesperson for the Indianapolis-based company founded by Angie Hicks in 1995. "Winning companies can market their SSA status to Angie's List members, and those who do this earn about six times more profile views than advertisers who don't win the award.
"Because access to our reviews is free now, we expect the SSA to have even greater significance than in recent years," Miller adds.
Among the pest management firms who received the 2016 award are:
Aiken Pest Control, Aiken, S.C.
Aspen Pest Control, Vancouver, Wash.
Aztec Organic Pest Service, Austin, Texas
Ballard's Pest Control, Kingwood, Texas
Black Diamond Pest Control, Jeffersonville, Ind.
Bob Jenkins Pest & Lawn Services, San Antonio, Texas
Bug Out branch in St. Augustine, Fla.
Capitol Pest, Bethesda, Md.
Champion Pest & Termite Control, Pickerington, Ohio
Cowleys Pest Services, Neptune City, N.J.
Hometown Pest Control, Delray Beach, Fla.
Holper's Pest & Animal Solutions, St. Louis
Impact Pest Elimination, Tarpon Springs, Fla.
Inspect-All Services, Conyers, Ga.
Leupitz Pest Control, Salem, Ore.
Masters Touch Pest Solutions, Downinton, Pa.
Miller Pest and Termite, Omaha, Neb.
Natran Green Pest Control, Houston
Petri's Positive Pest Control, Pompano Beach, Fla.
Safer Home Services, Clearwater, Fla.
Skyline Pest Solutions branches in Atlanta, Cumming and Buford, Ga.
Termite Terry Pest Control, Costa Mesa, Calif.
Truly Nolen Pest Control (New Holland, Pa.; Key Largo, Naples, South Miami and Tampa, Fla., and Columbus, Ohio)
Did we miss your award? Drop us a line at pmpeditor@northcoastmedia.net and we will announce it in a future issue.