Bobby Jenkins, owner and CEO of ABC Home and Commercial Services, Austin, Texas, was named the 2017 Austinite of the Year by the Greater Austin Chamber of Commerce.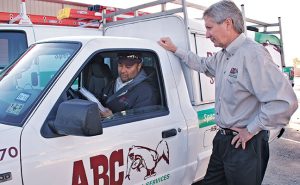 His commitment over the past 30 years to serving the local community and a strong and successful business record helped shape Austin's success as a region brimming with innovation, growth and generosity, according to the Greater Austin Chamber.
"Bobby Jenkins is an authentic Austin treasure. He's an exemplary business leader who truly cares about our community and prioritizes giving back," said Ellen Wood, chairman of the Greater Austin Chamber and CEO of vcfo. "Bobby also leads through personal example often rallying others around a wide variety of issues that are good for Central Texas."
Jenkins often provides leadership and offers guidance to various boards, committees and volunteer efforts. Most recently, he supplied emergency resources to save the Zilker Kite Festival, an 88-year Austin tradition and one of the area's best known annual events.
In 2014, Jenkins and his family created the Moss Pieratt Foundation after the tragic loss of their grandson, one-year-old John "Moss" Pieratt Jr., from a condition known as Sudden Unexplained Death in Childhood (SUDC). This summer, he and brothers Dennis and Raleigh launched a nationwide fundraiser and awareness builder by riding bikes over 52 days and 3,500 miles, from Seattle, Wash., to New York City. The trip also helped raise funds for A Child's Hope, which is helping hundreds of orphaned or abandoned children in Haiti.
The Austinite of the Year award is the Greater Austin Chamber's highest honor. It was created in 1984 to recognize significant leaders in the local community who were instrumental in making Austin an even-better place to live, work and do business. It will be presented to Jenkins in February during a ceremony at the organization's annual meeting.
ABC Home & Commercial Services has offices in Austin, San Antonio, College Station and Corpus Christi. the company employs 730 people and offers pest and termite control services as well as lawn care and mowing, landscaping and irrigation, tree trimming, air conditioning and heating, plumbing and electrical, pool cleaning and repair, handyman services, appliance repair, and security system installation and monitoring.