The National Pest Management Association (NPMA) kicked off its 2017 Technology Summit in Salt Lake City, Utah, Nov. 28.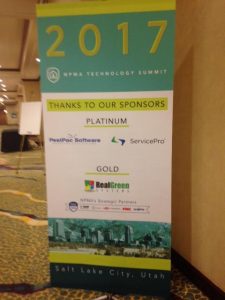 The event featured educational sessions led by technology experts and pest management professionals (PMPs) with technology experience, presentations by tech savvy business owners, and exhibits showcasing companies that offer technology related products and services.
Known as PesTech when first launched in 2001, the event also was held in 2002 and 2015. Alexis Wirtz, CMP, vice president of conventions and meetings for the NPMA, said the organization plans to hold a technology conference every other year in November or December, to meet the needs of PMPs who are taking steps to incorporate the use of more technology into their businesses.
Day one of the 2017 NPMA Technology Summit featured a lively, hands-on presentation by Beth Z, Your Nerdy Best Friend.
Beth Ziesenis is author of four books about apps and time-saving tech tools. Her latest book, The Big Book of Apps, is now available. Her presentation, "A Day in the Life of a Nerdy Pest Management Professional," focused on how apps can help you become more efficient and better organized.
Taking attendees through a typical day was a clever way to demonstrate that completing a task on a to-do list is as easy as downloading an app.
Beth Z is an advocate for artificial intelligence, or AI, that makes life easier. For example, she said Astro, an app that helps manage emails, is a great way to help clean up inboxes. Another app called Any.do, is a task manager that sorts through your emails and finds tasks that others can handle for you. The app X.AI is a scheduling tool that uses virtual personal assistants to schedule meeting for you.
After sharing her apps and the reasons why they allow users to work more efficiently, Beth Z asked attendees to gather in groups to share their favorite apps. Attendees didn't disappoint, as they offered up apps that make their jobs easier as well as provide fun distractions. More than 100 of their favorite apps can be found on a spreadsheet compiled during this fun – and useful — exercise.
Day one ended with a reception held in the exhibit hall. In addition to Platinum Sponsors ServicePro and PestPac, and Gold Sponsor Real Green Systems, and Strategic Partners BASF, Bayer, Dow AgroSciences, FMC and Syngenta, a vendors were on hand to demonstrate their tech-related products and services.
The second day of the 2017 NPMA Technology Summit featured a General Session entitled "Driving Growth Through Innovation." Robert Tucker, president of The Innovation Resource, a research and executive development firm that helps companies use innovation to drive growth, shared tips on how encourage the flow of ideas.
Innovation, Tucker said, is "introducing new or improved products, processes, and strategies that create new value for customers and drives growth for your company."
Tucker encouraged attendees to move from "happy accidents" to a more systematic approach of developing ideas. Asking how an idea will benefit customers will keep innovators on the right path.
To demonstrate what he meant, he asked attendees to think of all the innovative ways McDonald's serves its customers. It didn't take long for PMPs, who broke into groups, to realize why McDonald's remains a fast-food giant. From breakfast all day to double drive-thru windows, the exercise illustrated how innovation leads to greater market share.
"You wouldn't be here if you weren't already innovating," he said. "But we need to bring more people into the process for successful innovation."
Tucker suggested creating a company-wide process that makes it easy for employees to share ideas. The process, which will be as unique to each company, should include a place for ideas to go and be selected. He advised rewarding creative employees who offer ideas.
Most of companies are concerned about meeting the current needs of the customer, he said, but thinking about the unmet and unarticulated needs of the customer will result in good ideas.
After Tucker's presentation, attendees could attend one of two concurrent educational sessions. Leila Haas and Donnie Shelton led "How to Train Team Members and Attract Employees Using Technology."
Haas, who is director of human resources for Sprague Pest Solutions, examined the ways in which her company uses technology to deal with workers who do not all work in the same geographic location.
When it comes to hiring, she advised having a career-friendly website that lets the company culture come through. Online reviews are important too, especially if they are positive. As an example, she said, reviews on the Glassdoor website often are mentioned by job applicants, and help convey Spague's culture. In addition, social media helps prospective employees "understand who we are and what we do."
Videos are an important training tool for the company, Haas said. They are created by Sprague's employees and housed on Stream, a site similar to YouTube. Trainers use their smartphones to create "simple and straightforward" videos that are no longer than two minutes. Employees, she said, find the videos more engaging because they are watching people they personally know.
"What's better," she asked. "Trainees looking at random YouTube videos or trainees looking at Sprague videos?"
Shelton, owner and president of Triangle Pest Control, asked attendees how they attract people to their companies.
"Your ability to attract the right people to your company," he said, "is the key to profit, the key to winning and your only real advantage."
Shelton created a page on his company's website specifically for recruiting employees. The goal is to convert qualified prospects into employees.
Having the right employment processes in place will enable companies to see cost per hire.
"Most people will tell you 20 percent of a person's salary is what you spent to hire them," he said. "So you want to retain them."
The other concurrent educational session held on day two was entitled, "Surviving a Technology Conversion – Avoiding Common Pitfalls." This panel discussion featured tips from PMPs working at companies that implemented new software and services.
Ted Brayton, Griggs & Browne Co., said his company used proprietary software until 2000, when it made the switch to a product offered by a vendor well known in the pest management market.
Brayton advised attendees to "develop a technology team instead of one person who coordinates the new software." He also recommended investing in ongoing training, and making it clear the company will be moving ahead with the new technology whether or not it is embraced by all employees.
Justin MCauley, vice president of McCauley Services, said his company implemented a five-step process for taking on new software.
First, the leadership team determined the pain points and opportunities for making the investment. Then, they considered the possible solutions. Next, they determined if the investment in the new software would make sense for the company. If so, they created an implementation team that would conduct beta testing. Finally, the company rolled out the new software, complete with company-wide communication and training.
McCauley suggested finding the person at the company who would be least likely to succeed during the software trials and set up. "If he succeeds, he will be the company's biggest cheerleader for the new technology and he will help convert others," he said. The "if he can do it, you can do it" mentality works wonders with employees.
Also on the panel was Andrew Barrows, director of mergers and acquisitions for Environmental Pest Services, who shared lessons learned from acquiring 80 companies.
To avoid common pitfalls, he advised starting with your goals and building a roadmap for success. "Start with a pilot program so you know what you're doing," Barrows said.
He also recommended empowering the right people. "Find a champion," Barrows said. "If you don't have the right person to see it through, don't do it."
Day three of the NPMA Technology Summit kicked off with a lively presentation by Marcus Sheridan, owner of The Sales Lion. "The Changing Customer Experience – How Technology Impacts Buying Habits for the Next Generation of Customers" examined how customers are more knowledgeable than ever.
Sheridan said he sees everything from a sales and marketing standpoint. Buyers have changed, he added, and want companies to eliminate the fears they have about a product or service.
"Trust is the tie that binds every business," said Sheridan, who increased his company's revenue with web content designed to gain the trust of prospective customers.
"Obsess over the questions you hear every day from customers – and answer them truthfully and honestly – and you will save your business," he said.
If you don't address what your customers want to know, somebody else will. Take price, for example. Your company doesn't have to list prices, but it does have to explain how it came to its pricing. Share why the service is more expensive than its competitor's. Think like the customer.
"Take them by the hand and tell them what they are getting themselves into," Sheridan advised.
"Consumer ignorance is no longer a viable sales strategy," he said. "Be the best teacher in the world."