PestWorld East 2019 held in UAE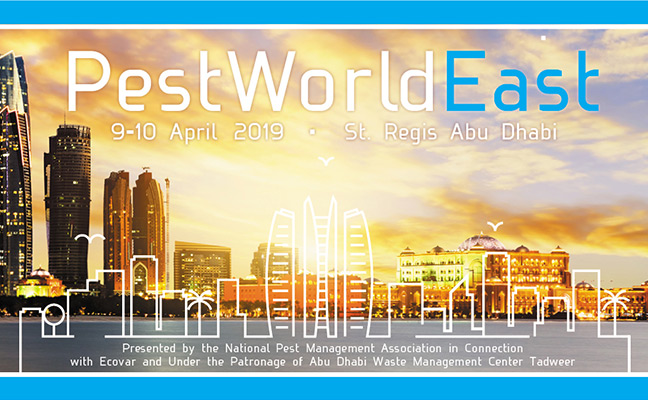 PestWorld East 2019 took place in the United Arab Emirates (UAE) this year, drawing more than 350 leading officials and pest control experts from the UAE and abroad.
The Abu Dhabi Waste Management Center (Tadweer) in collaboration with Ecovar, a provider of pest control solutions in the United Arab Emirates (UAE), and the National Pest Management Association (NPMA) from the United States hosted the conference.
Dr. Thani bin Ahmed Al Zeyoudi, UAE minister of climate change and environment; Falah Al Ahbabi, chairman of the department of urban planning and municipalities; and Dr. Salem Al Kaabi, acting general manager of Tadweer, attended the conference.
The two-day event featured expert-led sessions including "Practical Fly Management and Equipment Innovation," "Comprehensive Rodent Control Programs in Urban Environments" and "Building a Better Pest Control Program – Pest Management at Construction Sites," as well as an innovation showcase by pest control companies.
Other key topics were "Recognizing the Importance of Pest Management in Protecting Public Health," "Termite Treatments – Equipment, Procedures and Effective Practices" and "Bed Bug Treatment Methods and Monitoring Techniques."
PestWorld East 2019 facilitated the exchange of knowledge on a range of topics related to sustainable pest control, as well as networking with specialists from global universities and research centers with the aim of improving the efficiency of pest control operations. At an exhibition held on the sidelines of the conference, Tadweer showcased its latest innovations and equipment used for the detection and control of pest breeding sites.
"The conference exhibited more than 200 innovative pest detection and control products and equipment items," says Mohammed Al Marzouqi, pest control projects director at Tadweer, in a press release. "The event has proven its mettle as an invaluable boost to the integrated pest management sector in the country through providing a key platform for exploring the latest technologies and innovations. The recommendations from the conference, drafted by leading experts from across the globe, will go a long way in advancing scientific research in this vital domain."
He added that the speakers and panelists stressed the importance of adopting international best practices to ensure that pest control operations in the Middle East are on par with global standards.
Tadweer is the key government entity responsible for all activities related to the development of waste management services in the emirate of Abu Dhabi. The center is also tasked with carrying out pest control.