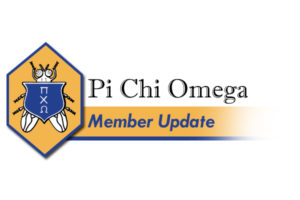 The Pi Chi Omega Award Committee asks members to think about which peers in the industry have gone above and beyond and are worthy of a nomination for a Pi Chi Omega Award.
Nominations for this year's awards are due June 30.
The Awards Committee has worked over the past year to meld awards from the past into awards that are meaningful to the future. Members will be recognized with an award for carrying out the Pi Chi Omega mission through networking, mentoring and service.
Each year, the organization honors worthy individuals with the following three awards:
Pi Chi Omega – Publications of Professional Services: This award recognizes distinguished service through scientific publication of a significant work. Publication examples include, but are not limited to, books, industry journal articles, scientific journal articles, etc. In publications with multiple authors, all authors who are Pi Chi Omega members would be included in the presentation of the award.
Qualifications: At least one author must be a Pi Chi Omega member in good standing, the publication must be scientific in nature and should have a direct, positive impact on the urban and structural entomology industry or field.
Pi Chi Omega – Award of Achievement: An award to be presented to individuals who have served the organization for 10 or more years and during that time have made contributions that are outside of the normal expectations of their board or membership roles.
Qualifications: Must have served the organization for a 10-year period (not necessarily as a board member), must be a Pi Chi Omega member in good standing, must have been instrumental in furthering the growth and/or mission of Pi Chi Omega.
Pi Chi Omega – Generosity Award: An award presented to individuals who exhibit a genuine desire to better the organization and who act upon that compunction by completing an honorable or selfless deed for the benefit of the organization. The contribution may be made in the form of hard work, financial contributions or creative strategic visionary work that goes above and beyond their membership and/or board role and is not necessarily tied to an amount of time of service.
Qualifications: Individual must be a member in good standing, must have made a significant impact on the financial stability of Pi Chi Omega or a positive impact on the organization.
Learn more about the nomination process and fill out a nomination form here.