Pest management professionals (PMPs) who treat cockroaches know how resilient they are, but these fun facts drive home the point: Cockroaches can survive without food for a month, without water for a week, under water for 30 minutes, and without their heads for a week.
Successful cockroach control depends on many factors. Identifying species properly, choosing products wisely, training technicians regularly, and insisting customers cooperate are just a few ways PMPs can rise to the challenge these pests present.
"The biggest challenge to gaining control is different in each situation," says Doug Foster, president of Burt's Termite & Pest Control in Columbus, Ind., and a PMP editorial advisory board member. "The key is to quickly identify the challenge and address it."
PMPs can overcome five common cockroach management challenges. Here's how:

CHALLENGE 1: BUILDING BUSINESS
Cockroaches can thrive in residential and commercial structures, so there is plenty of work to be had if you know where to look.
Foster says property managers are an overlooked source of cockroach revenue because typically, they are tasked with hiring a PMP. When you help them by solving their pest problems, you will be their "go-to" whenever they need help.
"Sometimes it may be just coming up with a new program or tweaking the program they already have — and I don't mean cutting a competitor's price," he explains. "Many companies rework the programs they offer to focus on problem apartments, rather than treating all the units in a building just because 'that's the way we've always done it.'"
Cold calling on places you know receive food deliveries and have break areas — think restaurants, factories and warehouses — offer an opportunity to build relationships and possibly land future business.
"It's free, and you don't have to spend a lot of time each week prospecting," Foster adds.
Education-based sales also may open many doors for PMPs. For example, reach out to hotel managers, apartment managers and group home directors, and offer to share your expertise with their employees to help curtail cockroach activity. Teach what to look for when cleaning rooms. Explain the importance of effective cleaning techniques in areas where food is prepared and served, and show them how to do it. Stress the need for proper storage procedures, and provide examples.
Marketing your services on social media is a new way for many PMPs to get the word out to current and prospective customers. Kevin Hudson, director of sales and business development for Advanced Services Pest Control in Augusta, Ga., opts for a two-pronged approach for posting content: employees and a local marketing company.
All employees are permitted to promote the company's services and themselves on their personal Facebook accounts to help with sales, he says. For the company's page, an outside firm markets Advanced Services with seasonal ads for its services, and testimonials from its customers. In addition, family-friendly jokes and memes about pests keep the tone light.
If you have time to devote to social media, you can certainly do it yourself, Hudson says. But he recommends posting frequently; at least twice a day. Otherwise, hire someone to do it for you.
"When posting, just make sure your content is relevant and offers some type of guidance or advice that portrays you as the professional to your target audience," he says.
Pricing your services accordingly also may boost your bottom line. You may not get more jobs, but those you do get will have a better impact on your business, says Scott Robbins, ACE, technical services manager, Action Pest Control, Evansville, Ind.
Pricing is critical, he says, because cockroach management always requires follow-up and customer cooperation. The first part is easier because PMPs know what they are capable of doing. The second part requires upfront communication with customers and the establishment of responsibilities and expectations.
"What you see in regards to severity of infestation and conducive conditions should dictate your service fee, not your competitor," Robbins says.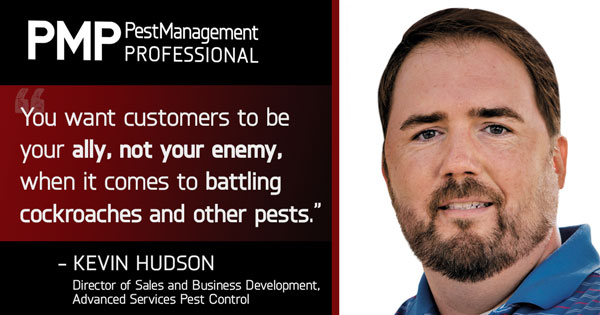 CHALLENGE 2: CONVINCING CUSTOMERS
Making sure your customers understand why it is critical to clear out clutter, repair water leaks and seal cracks and crevices is not always easy. Every PMP has encountered at least one customer who would not cooperate, making control difficult.
Joe Cantu, VP and director of operations for The Bug Master in Austin, Texas, says customer cooperation always has been his company's biggest challenge and includes, but is not limited to, preparedness, poor sanitation, and personal tolerance.
While it is never easy to overcome these challenges, Cantu says his technicians continue to stress to customers how important it is to get their cooperation. Sometimes it's necessary for the company's field service supervisors go to the account with the technicians to talk to the customer about the pest issue, or to see if they can try a different tactic.
Customers need to understand that cockroach elimination is critical, because the pests may cause serious health issues. For instance, a cockroach allergy can trigger allergy and asthma all year long, and children with a cockroach allergy that are exposed to them have more hospital visits for asthma than other children with asthma, according to the Asthma and Allergy Foundation of America. In addition, cockroaches spread germs and bacteria. The World Health Organization warns they can be carriers of intestinal diseases such as diarrhea, dysentery, cholera and typhoid fever.
"We know we will not always have full customer cooperation," Cantu says. "But certainly all efforts and service techniques are exhausted to gain and maintain control."
Cantu says those efforts include training technicians and field sales representatives to explain and educate customers and potential customers on the health risks cockroach are known to pose. The company gets its information from various industry publications and the Centers for Disease Control and Prevention (CDC). Handouts have never worked for the company, he admits, because customers tend to view them as junk mail and therefore don't pay much attention to them.
Normally, customer reaction is mixed, he says. The company's health- and food-related customers tend to respond better.
"These types of customers have zero to low pest tolerance, and are very sensitive to any exposure," he says. "So it's much easier to explain the health risks to them."
For the company's other customers, including residential, Cantu says his technicians and field sales representatives do a great job going over the scope of services, and the importance of good sanitation to prevent cockroach infestations.
Because customer education can have a huge impact on the success of the treatment, Natura Pest Control Service Manager Aaron Davis advises PMPs to educate the customer on what to expect.
"Cockroaches are extremely resilient to most treatments, and setting up realistic expectations with customers will go a long way in not only building their confidence in the service you're providing, but also helps them feel 'in-the-loop' throughout the entire process," says the Vancouver, Wash.-based Davis.
Getting customers onboard with an integrated pest management (IPM) program helps, too.
"You want customers to be your ally, not your enemy, when it comes to battling cockroaches and other pests," says Advanced Services Pest Control's Hudson.
Robbins agrees, saying many customers want PMPs to "bring the good stuff" and instantly make their cockroaches disappear.
"Few understand the necessary parallel investments in improving sanitation and reducing harborage, which will greatly benefit the overall success of our efforts," he says. "However, the fault lies with us if we do not set these expectations with our customers up front."
Explaining that competing food sources hamper cockroach control, for example, may convince customers to act. After all, a customer who doesn't thoroughly clean up food debris in his restaurant may unwittingly prolong the control process.
"We've found that a bait-heavy approach to cockroach management helps combat an uncooperative customer," Davis says. "Team that with carefully placed monitoring stations and regular inspections during the treatment period, and you can have a highly successful cockroach program, even with limited cooperation from customers."

CHALLENGE 3: CHOOSING TREATMENT
Using the most effective products and techniques available is great advice, but how do you learn about them?
Davis says he reaches out to his product distributors regularly to ask about the newest products on the market and the direction the industry is headed regarding treatments for specific pests. When his company switches to new products, every technician receives training on how to use them legally and effectively. In addition, Natura Pest Control advertises its confidence in the latest products and treatment methods the company uses through its satisfaction guarantee.
What you use is just as important as where you use it, however.
"You will be as successful as the quality of the products you employ and the effort you make to access and place them in the best locations," Robbins says. "Many fine products are available, but if they are not applied in the right locations, their efficacy can be severely limited."
Cockroach species may dictate the type of treatment, so making an accurate ID is critical.
"Training is a must because German, American and Oriental cockroach species frequent different sites and respond in their own ways to various bait formulations or other treatment methods," Robbins says.

CHALLENGE 4: TRAINING TECHNICIANS
Educated technicians have the best chance of getting a cockroach infestation under control.
"There are hundreds of pesticides and formulations on the market for cockroaches, but if you don't know how or where to use them, you might as well be treating with water," says Advanced Services Pest Control's Hudson.
The employees there receive the majority of their training in house via a full-time trainer, who conducts daily ridealongs and holds small classes one day every week.
At Natura Pest Control, Davis says technicians attend a semi-annual training event hosted by the company's product distributors. In addition, manufacturer reps often visit the company throughout the year to perform pest-specific training and share new product information. Every year, technicians also attend a training session hosted by the Washington State Department of Agriculture that is the equivalent of more than 20 hours of annual professional pest management training.

CHALLENGE 5: ELIMINATING CALLBACKS
"Many variables — from the initial inspection to the final treatment — need to be accounted for to combat the callback scenario," says Phillip Lechmanski, owner of East End Pest Control in Shelter Island, N.Y.
Educating the customer on the different aspects at play, and what to expect from treatment methods, is imperative, he says.
Hudson agrees, and advises technicians should educate the customer on cockroaches and IPM. They also should set "action thresholds" at each account by informing customers how many live and dead cockroaches they should see before calling back.
"This allows you to set expectations for the service, so the customer is aware whether those expectations have been met," he says. "Agree on what the threshold is, so you both are aware."
Well-placed insect monitors, along with thorough inspections, will enable technicians to detect activity at every stage of a cockroach infestation.
Technicians should remove old bait placements and refresh them regularly in areas prone to cockroach activity, Robbins advises. It helps to offer pest-proofing to reduce or eliminate harborages and access points, too.
"Baiting and monitoring are absolutely vital to responsible cockroach management, and help prevent resistance and costly callbacks," Davis says.