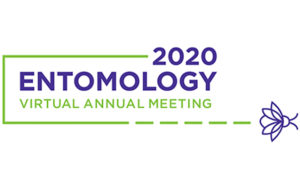 The Entomology 2020 Program Committee and the Entomological Society of America (ESA) Governing Board have announced that the Governing Board voted to move Entomology 2020 to a fully virtual format.
"We are excited to embrace the virtual format and build an exceptional meeting that will truly embody the spirit of Entomology for All — a meeting where all insect scientists can participate and share their work, regardless of location, specialty area, or ability to travel," ESA said in its announcement. "Entomology 2020 will feature multiple live-streams running simultaneously Nov. 16-19. On-demand content will be available from Nov. 11-25."
Anyone who submitted a research paper to the event has been automatically registered at no additional cost, with full access to all live-streamed and on-demand content. Submissions will re-open June 22, according to the ESA.
The organization has put together an online "Frequently Asked Questions" page. It also has posted its program schedule:
Entomology 2020 will feature an opening plenary session with two keynote speakers, symposia, workshops, organized meetings, 10-minute presentations, three-minute talks, posters, virtual posters as well as functions and meetings hosted by others attending the meeting.  The opening keynote speakers are:
Dr. Chavonda Jacobs-Young, administrator of the Agricultural Research Service (ARS), the U.S. Department of Agriculture's (USDA's) chief scientific in-house research agency, and currently also the acting chief scientist of USDA. Prior to joining ARS, Dr. Jacobs-Young held several scientific leadership roles to help transform USDA's scientific coordination and create a lasting impact on the conduct, quality, integrity, and access to science for customers, stakeholders, and partners. She has also worked to elevate the visibility of collaboration and coordination of agricultural research globally. While in USDA, Dr. Jacobs-Young has also served as Director of the USDA Office of the Chief Scientist, Acting Director for the National Institute of Food and Agriculture (NIFA) and Senior Policy Analyst in the White House Office of Science and Technology Policy.
Dr. Ray Wheeler, a plant physiologist and senior scientist at NASA's Kennedy Space Center, where he leads the advanced life support research group. This includes controlled environment studies and vertical farming with crops for food and oxygen production, carbon dioxide removal, and wastewater processing. Over the years, Dr. Wheeler has studied plant responses to gravity, carbon dioxide, light, atmospheric pressure, and hydroponic cultivation. He has been co-investigator for several spaceflight experiments, including the first test to demonstrate potato tuber development in space, and studies using the "Veggie" plant growth chamber on the International Space Station to growth fresh vegetables for the astronauts.
Find updates about other industry events impacted by COVID-19: Pandemic affects status of industry events
Read more COVID-19 coverage here: MyPMP.net/COVID-19