In early January, the National Centers for Environmental Information (NCEI), a division of the National Oceanic and Atmospheric Administration (NOAA), released its annual National Climate Report.
As expected, 2020 didn't disappoint weather-wise. 2020 was the fifth-warmest year on record, with all states in the contiguous U.S. experiencing above-average temperatures.
On average, rainfall was slightly above average across the country, but much higher-than-average rainfall was experienced in the Great Lakes, Plains, Southeast, and Mid-Atlantic regions. Virginia, where the National Pest Management Association (NPMA) is headquartered, recorded its third-wettest year on record.
Increased rainfall can promote larger mosquito populations and drive ants, millipedes and other perimeter pests indoors — while limiting our ability to perform some kinds of pest control work outdoors. Warmer temperatures can increase spider, peridomestic cockroach and stinging insect populations by shortening development time.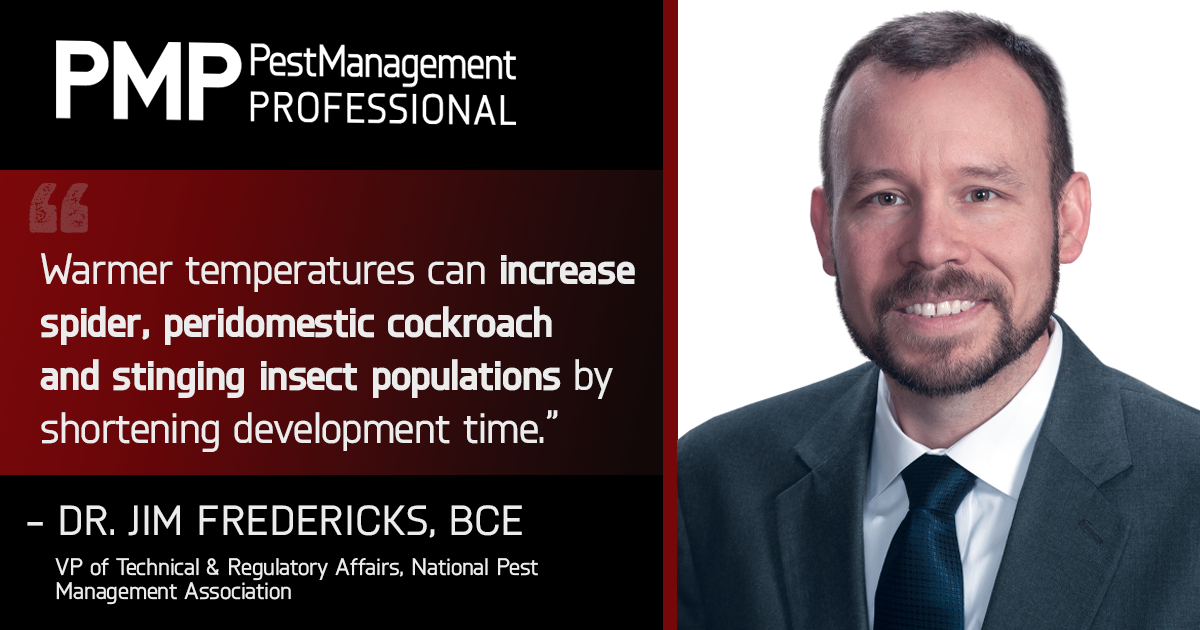 LET'S TALK ABOUT THE WEATHER
With all of the above in mind, consider how the current weather trends in your region might be affecting local pest pressure. For instance, when commenting on the rainy weather, remind your client how critical it is to direct rainwater away from building foundations. Limiting moisture buildup around the foundation of a building can make conditions less hospitable for termites, millipedes and certain occasional invaders. If standing water is present at the account following a rain event, suggest a remedy to minimize mosquito-breeding conditions.
For the most part, weather opinions transcend a person's stance on politics, religion and gossip. Take advantage of this common small-talk subject, and use it as an opportunity to make a positive pest management impact for your clients.