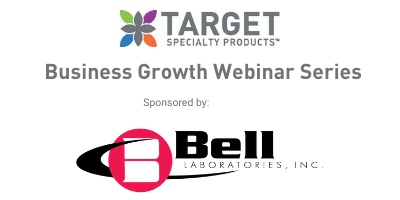 On Aug. 26, Target Specialty Products and Bell Laboratories will present "iQ: Empowering Employees AND Protecting Customers." The free one-hour webinar will start at 1:30 p.m. Eastern, and will be presented by Patrick Lynch, ACE, Bell Labs' senior VP of sales and general manager of Bell Sensing Technologies. Attendees are invited to ask questions at the conclusion of the webinar. Click here to register.
Lynch will discuss how utilizing Bell Sensing Technologies products can accomplish superior rodent control, provide verifiable data, and motivate technicians with products that increase job satisfaction and efficiency. After completing his MBA from the New York Institute of Technology in 2006, Lynch gained his expertise in the rodent control industry working as a Bell technical representative for the New York and New Jersey region. He currently serves on the National Pest Management Association's (NPMA's) Workforce Development Committee and the NPMA Leadership Networking Council.
"We are excited to partner with Bell Laboratories to showcase how Bell Sensing Technologies products can provide superior rodent control, while also enhancing a technician's efficiency in the field," Target Specialty Products' President David Helt said in a news release.
ABOUT TARGET SPECIALTY PRODUCTS
Headquartered in Santa Fe Springs, Calif., Target Specialty Products operates 44 locations across the United States and Canada. Click here to be added to Target's mailing list and notified of future educational opportunities. An online library of Target's previously recorded webinars is also available for on-demand viewing.
ABOUT BELL LABORATORIES
Founded in 1974 by Pest Management Professional Hall of Famer Malcolm Stack (Class of 2004) and based in Windsor, Wis., Bell Laboratories produces rodenticides and other rodent control products for pest control and agricultural industries on six continents.