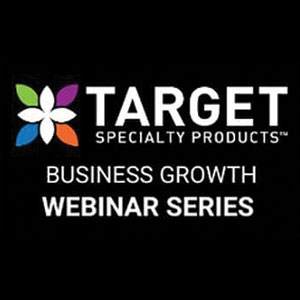 Target Specialty Products, a service provider of pest and turf and ornamental solutions in the United States and Canada, has launched an online library of previously recorded webinars for on-demand viewing.
The launch of the new online library commemorates the one-year anniversary of Target's Business Growth Webinar Series for pest management professionals (PMPs).
"We've had a tremendous response from registrants and attendees to our webinars prompting us to make them a monthly offering," said David Helt, president of Target Specialty Products. "We are extremely excited to now be able to offer a full library of recorded webinars that our customers may use in the convenience of their home or office."
The free Business Growth Webinar Series has generated a large following and attendance rates. The webinar series is designed for PMPs with technical and business topics to help them grow their business. Over the course of the last year, topics have ranged from 'Formulation Science,' 'Battling Insecticide Resistance,' 'Dealing with Sensitive Accounts,' to the timely 'COVID-19 Update & Possible Disinfectant Service Options.' Attendees are encouraged to ask questions of the speaker for Q&A after each webinar.
PMPs can view the recorded webinars on Target's website.
Visit Target's website to be added to its mailing list and get notified of future educational opportunities. Headquartered in Santa Fe Springs, Calif., Target Specialty Products operates 44 locations across the United States and Canada.
Target's Business Growth Webinar Series of 2020 includes 10 previous events: