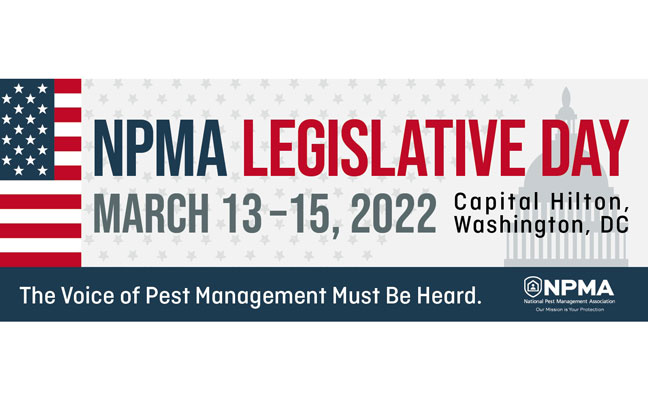 National Pest Management Association (NPMA) members will climb Capitol Hill in Washington, D.C. on March 13-15 for Legislative Day 2022.
NPMA members will meet with members of Congress advocate for regulatory and legislative issues important to the professional pest management industry.
Every day, Congressional members are bombarded with requests to support or oppose legislation. Individuals, organizations and entire industries are fighting for or against laws impacting their business or personal lives, which can cause issues in the pest management industry to be overlooked.
Legislative Day is a chance for people in the pest management industry to bring attention to changes in existing existing laws and regulations that can possibly have a significant impact on pest management businesses.
It is a chance for lawmakers to know, hear and respond to the concerns brought by the NPMA.
Legislative Day 2022 will take place at the Capital Hilton in Washington, D.C. For event registration and to reserve a hotel room, visit the NPMA website.
BACK IN PERSON
The groups will meet in person after an online-only version last year due to the COVID-19 pandemic.
Last year, NPMA members discussed the issues via virtual meetings with their state representatives. The NPMA partnered with software provider Soapbox to create meeting schedules and to provide an easy-to-use platform to coordinate talking points and contact information.
At the first Legislative Day in 1988, a very small group met in Virginia and heard about issues affecting the industry in Washington, D.C., followed by a visit to Capitol Hill to promote the industry, PMP columnist  Greg Baumann wrote in his February "Vantage Point" column.
"Early attendees set the stage for what is now one of the most important and exciting industry events of the year," Baumann said in his column. "While its main purpose is to bring awareness of the industry to members of Congress, Legislative Day has evolved into an event that has something for everyone."