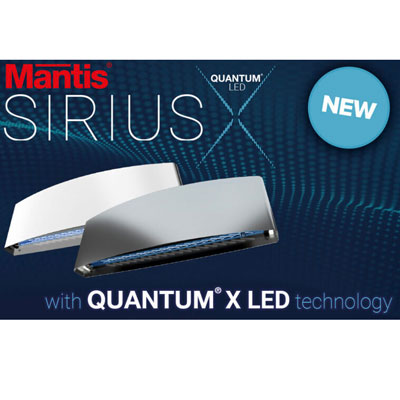 The newly launched Mantis Sirius X with Quantum X Light Emitting Diode (LED) Technology represents "a groundbreaking development in the realm of flying insect control," the company says. Designed for environments where aesthetics are as crucial as functionality, this advanced system is available in two finishes: classic white and modern stainless steel.
Catering to a variety of architectures, the Sirius X's sleek and elegant design makes it an ideal placement for front-of-house areas. It merges seamlessly into upscale and aesthetically sensitive environments such as luxury retail spaces, high-end restaurant dining areas, and hospital waiting rooms. The Sirius X is not just about good looks, however: It incorporates the advanced Quantum X LED filament technology, offering a sustainable, highly efficient approach to flying insect control.
Sirius X addresses the critical challenge of filth fly contamination within food areas, where these pests, known for spreading infections, are a major concern. The core technology of Sirius X, Quantum X LED technology, emits a 360-degree beam, attracting and capturing flies effectively.
A specialized 21-inch polymer LED glue board, developed to work specifically with Quantum X LED lamps, ensures a high rate of insect capture. Independent testing has demonstrated that Quantum X LED technology captures 91 percent of free-ranging house flies (Musca domestica), underscoring its effectiveness.
More than a flying insect control solution, the company says, "Mantis Sirius X is a testament to the harmonious blend of functionality, environmental responsibility, and design sophistication. The perfect choice for businesses that prioritize both style elegance and hygiene."
About PestWest USA
Founded in 2001 and based in Sarasota, Fla., PestWest USA is an insect light trap (ILT) manufacturer that is part of the Killgerm group of companies based in Ossett, England. PestWest also offers a full range of Bio-gel+ biological cleaning products and expert training programs for pest management professionals.
PestWest utilizes Dr. Stuart Mitchell, a frequent Pest Management Professional contributor, in close collaboration with the technical teams in the United Kingdom, for their in-depth knowledge of the biology and habits of flying insects and electrical engineering expertise to create reliable products for flying insect management.