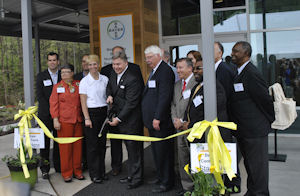 Bayer CropScience celebrated the grand opening of its North American Bee Care Center with a ribbon cutting ceremony on April 15 at its North American headquarters in Research Triangle Park, N.C. The $2.4 million center brings together technological, scientific and academic resources, with goals of promoting improved honey bee health, product stewardship and sustainable agriculture. The Center, a 6,000-sq.-ft. facility, is intended to complement the Eastern Bee Care Technology Station in Clayton, N.C., and a Bee Care Center at the joint global headquarters campus of Bayer CropScience and Bayer Animal Health in Monheim, Germany.
"The communication and education aspect — the state-of-the-art research that takes place here — will have a big impact," said Dr. Becky Langer, Bee Care program manager. "Hopefully, we'll eventually be able to address issues related to pollinators and help achieve a healthier hive."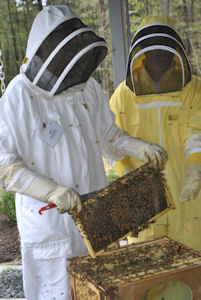 The center houses a full laboratory with a teaching and research apiary, honey extraction and hive maintenance space; interactive learning center; and meeting, training and presentation facilities for beekeepers, farmers and educators, as well as office space for a full staff and graduate students. On-site honey bee colonies, pollinator-friendly gardens and a screened hive observation area serve to further education and collaboration that will foster significant improvement in honey bee health and stewardship measures and best management practices.
"This is a place where we can put some resources toward identifying best practices that apply to pest management professionals and bee keepers," said Dr. David Fischer, manager of the Center. "We're trying to find ways of resolving potential conflict in the use of products with pollinator safety. It's also an educational center where we can get lots of stakeholders working together. We're trying to work collaboratively with universities and various organizations to find common-sense solutions to address bee health concerns."
Additionally, the North American Bee Care Center is targeting LEED Silver certification. The environmentally sustainable facility will help Bayer CropScience reduce its carbon footprint in an effort to promote corporate environmental stewardship. Products and technology developed at the Center will control parasitic mites in honeybee hives, and help manage a Healthy Bees program.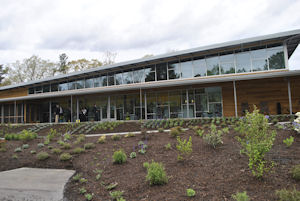 "Bayer CropScience actively seeks to promote bee-responsible use of Bayer products through worldwide communication activities and education," said Jim Blome, president and CEO of Bayer CropScience LP. "What we are developing here will serve not only to protect honey bees and their ability to effectively pollinate crops but will also help us leave a better world, one hive and one harvest at a time."
The North American Bee Care Center team also includes Dick Rogers, M.Sc., bee health expert and manager, Bee Care Center Research Program; Dr. Ana Cabrera, pollinator safety and varroa mite research scientist; Sarah Myers, apiarist and event manager, Bee Care Center; Kim Huntzinger, bee health laboratory diagnostic specialist; Sadye Howald, field apiarist in Indiana; and Jim Dempster, apiarist at Eastern Bee Care Center Technology Station in Clayton, N.C.