In March 2016, Truly Nolen Pest Control created its inaugural TRULY Insect Madness Bracket of Insects, which featured 16 insects and mirrored the fun of the yearly NCAA Men's and Women's Basketball Tournaments. After the fourth-seeded Ladybug was voted by our Facebook fans as the champion, we were happy to have done something that was considered unique for the pest control industry.
One year later, our company's corporate marketing department opted to touch upon another March sports tradition: Baseball Spring Training. As a result, we created our first-ever TRULY #SpringTraining #BattleoftheBugs. Two of our company's entomologists were asked to create a roster of insects that included the nine traditional baseball positions (P, C, 1B, 2B, 3B, SS, LF, CF, RF), one designated hitter, one relief pitcher, one bench player, and a manager. In addition, both entomologists were instructed to choose insects based on their unique characteristics and how they would potentially apply to a certain position.
For example, Associate Certified Entomologist Scott Svenheim's team included a Praying Mantis as a pitcher because, as he noted, "Their tall body stature allows them to have an 'over-head' view and they can turn their heads nearly 180 degrees on flexible necks to watch the entire field." Likewise, Board Certified Entomologist Dennis Justice's team included an Ambush Bug as catcher because, as he noted, "They wait motionless for their prey to wander near, so woe to the insect that gets within reach of trying to beat a throw home!"
We elected to devote two weeks to the competition, which was the same timeframe as last year's TRULY Insect Madness. After we announced the competition in a Facebook cover photo on March 6, the full team of Dennis' Destroyers was unveiled on March 7. Scott's Sluggers was unveiled on Wednesday, March 8. On March 9 and 10, the 26 insects were highlighted with specific details related to each. Cecelia Fleishman, Truly Nolen Graphic Designer and the person behind the designs on last year's TRULY Insect Madness Basketball brackets, said doing a baseball-themed competition was more difficult than basketball.
"With the bracket, it was very easy to have a roadmap of how things were supposed to look," said Fleishman. "However, I tried to replicate what a baseball photo scorecard would look like, and I hope people feel they are accurate representations of the real things!"
Rather than using Facebook for voting, our company decided a panel of three sports media veterans who frequently use Twitter would be the better avenue in terms of keeping the momentum going. The panel included:
Roger Mooney (@RogerMooney50), Pro Sports Beat backup writer for the Tampa Bay Times and longtime Tampa Bay Rays media member.
Ken LaVicka (@KLV1063), co-host of the The Host Team 10 a.m. to noon on ESPN West Palm 106.3 FM and voice of the Florida Atlantic Owls.
Stefanie Gordon (@Stefmara), sports and social media expert who has previously produced baseball content for Sports Illustrated, Sports on Earth, and Major League Baseball, to name a few.
After being e-mailed ballots on March 10, all three judges returned them filled with comments by March 13 that went way above and beyond our expectations. For example, when Gordon voted Scott's Praying Mantis over Dennis' Stick Insect at Pitcher, she said, "The Praying Mantis probably has a better pick off move than Andy Pettitte." When LaVicka voted Scott's Tarantula Hawk Wasp over Dennis' Mantidfly at Shortstop, he said, "The Schmidt sting pain index states a Tarantula Hawk Wasp sting is 'blinding, fierce, shockingly electric.' Whoa! Those intangibles! It has all-star written all over it!" When Mooney voted Scott's Giant Orb-Weaver over Dennis' Tiger Beetle at Center Field, he said, "Weaver = baskets. Baskets = basket catchers. Basket catchers = Willie Mays. Enough said."
On March 15 on Facebook, as planned, the team with more advantages was crowned the inaugural TRULY Spring Training Battle of the Bugs Champion. By a score of 24.5 to 14.5 from the 39 combined votes, Scott's Sluggers won the championship. However, because the media panel provided such great material, we opted to add an extra day to the competition. On March 16, we chose an All-Star team based on the panel's votes. To see all of their votes, you can view the All-Star team here.
It is always a great feeling to go "off the board" on something with the total support of Michelle Nolen Senner, our director of marketing, and add an extra day of content when it seemed like the right call. Our judges' ability to suspend disbelief long enough to analyze insects as baseball players was a key contributor to the extra day. We had hoped the competition would meet two objectives when it ended. First, because our company's logo has ears and a tail, we feel like we are certainly able to marry sports seamlessly into our philosophy of having fun. Second, our hope is that in addition to talking baseball, we would be able to provide some interesting insect education to our Facebook fans and Twitter followers, including unique insects they may not otherwise regularly see.
With our 80th anniversary as a company on the horizon in 2018, we believe the sky is the limit when it comes to our next March sports and insects mash-up!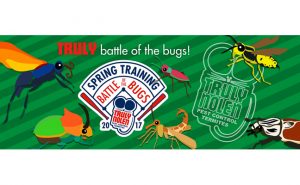 Srebnik is manager of public relations, social media and community events for Truly Nolen Pest Control. He can be reached at 954.247.3212 or toby.srebnik@trulymail.net.