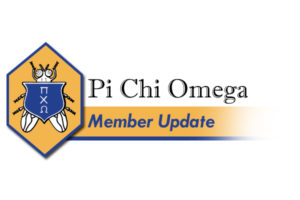 Four students received a total of $9,000 in scholarships from Pi Chi Omega, the national fraternity for pest management professionals. The annual scholarships support undergraduate or graduate students pursuing degrees in urban and industrial pest management.
This year's scholarship winners include:
Allison Johnson – Ph.D. student at University of Georgia – John Osmun Scholarship
Brittny Blakely – M.S. student at New Mexico State University – Founders Endowment Scholarship
Alex Blumenfeld – Ph.D. student at Texas A&M – Dr. Austin Frishman Scholarship
Maria Gonzalez-Morales – Ph.D. student at North Carolina State University – Alain VanRyckegham Scholarship
Maria Gonzalez-Morales is the second recipient of the Alain VanRyckeghem Memorial Scholarship, which was established in 2018. This $2,000 scholarship is available in perpetuity, based on the collected contribution of $50,000 to the Pi Chi Omega Scholarship Fund.
Pi Chi Omega is also accepting new member nomination forms. The organization welcomed 15 new members at the end of March:
Rajani Sapkota – M.S. student – Purdue University
Timothy Best, Ancho Pest Control
Andrej Branc, PelGar International
Todd Brown, BASF
Taylor Howlett, Direct Line Sales
David Hyres, Hyres Pest Control Inc.
Marcus Johnson, Target Specialty Products
Caroline Kirby, Plunkett's Pest Control
Molly Keck, Texas A&M AgriLife Extension Service
John Koval, Smitter Pest Control
Marillian Missiti, Buono Pest Control
Dejan Radivojevic, UNICHEM
Matija Sorc, UNICHEM
Scott Underwood, Oldham Chemicals
Dannis Warf, Central Life Sciences
The next round of nominations is due June 1. Staff will present nominations to the Membership Committee in early June. Those nominees approved by the committee will be presented to the membership for electronic approval the third week in June.