What a difference a year makes. Pest Management Professional's (PMP's) 2021 Cockroach Management Survey shows customers are getting back on track when it comes to cockroach control.
Although pest control was deemed an essential service at the outset of last year's coronavirus pandemic, many residential customers preferred no contact with technicians and most commercial establishments closed. The data this year show that's no longer the case.
When asked "Have any customers told you directly they are canceling or delaying cockroach control service because of the economy's downturn or other impacts of COVID-19?" 57 percent of respondents said customers did not cancel or delay their cockroach management services. When asked last year, that figure was a low 33 percent.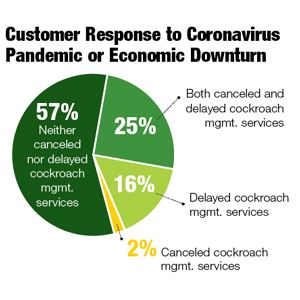 This year, only 16 percent of those asked said customers delayed their cockroach management services; last year, 31 percent of the pest management professionals (PMPs) asked said so.
In addition, PMPs are optimistic their cockroach control business will continue to climb this year, as 85 percent of survey respondents expect their 2021 revenue to be higher than revenue collected in 2020. Last year, 72 percent of respondents believed that to be true.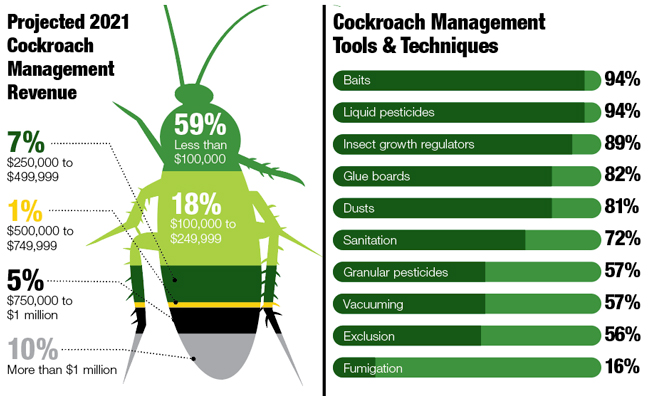 As for the most profitable accounts PMPs service, single-family homes rank highest, the same as last year. Restaurants dropped one spot to third, however, with apartments and multi-family housing taking over the second spot. Perhaps this change is a result of pandemic-related restaurant closures — both temporary and permanent.
Of the control methods PMPs prefer, our survey this year shows the use of glue boards, sanitation and exclusion increased. Baits, liquid pesticides and insect growth regulators (IGRs) topped the list once again.
---
Most-requested Cockroach Management Service Frequency
Monthly
Quarterly
Weekly
Top 3 Cockroach Management Drivers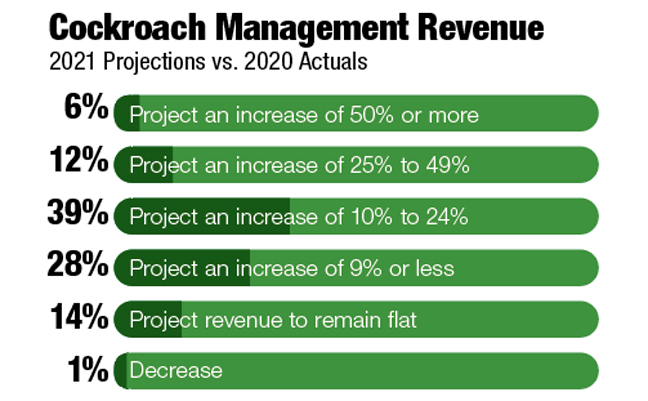 Repeat business and referrals.
Control solutions are more effective today.
Increased awareness of public-health risks.
Top 3 Cockroach Management Obstacles
Do-it-yourself (DIY) products.
Fierce pricing competition.
Educating home and business owners and municipalities on related public-health risks.
Profitability by Account Type
Single-family homes
Apartments & multi-family housing
Restaurants
Food processing plants & warehouses
Resorts & hotels
Schools & daycare centers
Healthcare facilities
Planes, trains & buses
---