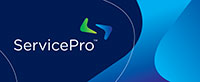 ServicePro,  the company that offers the enterprise pest control software known as ServSuite, revealed a new look for its logos. It also redesigned the ServSuite user interface, although the software's functionality remains the same.
"We say goodbye to our old look as we close a very important chapter of our company's history," said ServicePro COO Andy Deering. "We believe our updated branding captures the energy, freshness and innovation that our company stands for. We are very excited to share the change with our loyal customers through the years."
The company specializes in developing software solutions that meet the business needs of the pest management and service industry. Its products include ServSuite, ServBasic and ServSuite Mobile.