I dropped a short post last week about using companies that use their fleet trucks to sell their services (like billboards on wheels) before taking a long weekend vacation. I returned to the office today to find my inbox stuffed with some great pics from readers who saw the post and answered the call to share images of their commercial vehicles pitching their product: pest management.
Here are only a few notables, with looks so sharp and unique they just might inspire you to think again before customizing your fleet with a mere company name and phone number.


This one, from Smith Pest Control in Motley, Minn., fits no fewer than nine types of pests on the side of a truck. With only the company name and number spelled out, the pestiferous paint job tells you plenty about what the company has to offer.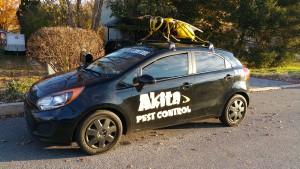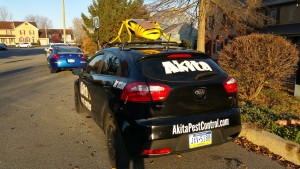 What's the buzz on the street? That would be, Lancaster, Penn.-based, Akita Pest Control's fleet of vehicles, topped with sting-centric beasts so fierce looking you might have to instinctively swat the air when they drive by.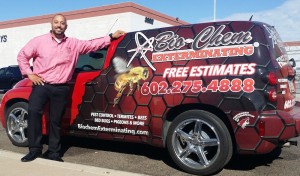 Bio-Chem Exterminating, based in Phoenix, shows us a great example of a custom truck wrap. The sleek, modern graphics are big and bold enough to stop traffic … just long enough to jot down that number for free estimates.
We love seeing your photos, so if you have any striking fleet vehicles you'd like to show off here, send me your pics: wnepper@northcoastmedia.net.
For more about fleet-based marketing — specifically the trend-setting Truly Nolen way — read Heather Gooch's Photo Finish column ("Sell on Wheels") on p. 92 of our February issue, which should be making its way to your mailbox any day now.