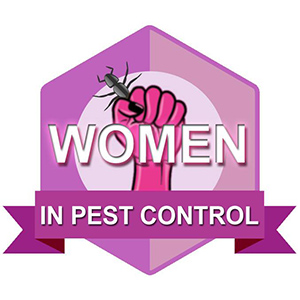 An event geared solely to the women who serve the pest management industry will take place this summer, thanks to two women who wanted to get together with other female pest management professionals (PMPs).
The Women in Pest Control conference will be held 8 a.m. to 5 p.m. Aug. 23, in Austin, Texas, all because the Women In Pest Control founders — Bobbie Terry, CA, owner of The Bug Lady Pest Services in Cedar Creek, Texas, and Lisa Myers-Botts, CA, owner of Peacock Pest Prevention  in Cypress, Texas — thought getting together with other women in the industry would be a great idea.
"The response to this event has been so tremendous," Myers-Botts says. "We really just started it with Bobbie saying, 'We should have a meet-and-greet.'"
The website for the Women in Pest Control conference invites women to "Come learn and network in a judgment-free zone." The event is open only to women, and that includes the presenters and vendor representatives.
"This event is for all women in pest control," Terry says. "It doesn't matter if you're sitting at that front desk answering phones or if you have a degree in entomology, we want every woman out there to be involved in this group and to learn and succeed from it."
The Women in Pest Control conference will feature presentations from nine women in the pest management industry who will discuss the latest developments in green pest control, examine fly control, offer wildlife exclusion tips, share information on food service facility compliance, take a look at the future for women in pest control and explain the importance of ACE (Associate Certified Entomologist) certification.
It also will include an exhibit area showcasing sponsors Univar, Nisus Corp., AMM Insurance and Bird-X.
The interest from vendors in sponsoring the Women in Pest Control conference has been so positive, Myers-Botts and Terry started a wait list due to exhibit hall space limitations.
"Next year, we hope to move to a bigger venue, possibly with a two-day conference that includes the ability to earn continuing education units (CEUs) and proctored ACE exams," Myers-Botts says.
Times certainly have changed for the better. In 1933, when Pest Management Professional magazine launched, pest control was not considered suitable work for women.
Eighty-six years later, women not only work in the office and out in the field, they run multi-million-dollar pest management and manufacturing firms and head up the national organizations that serve the industry. (Witness the recent promotions of women to president at McCloud Services and Truly Nolen, for example.) And women in pest management are, for the most part, eager to get together and exchange ideas and insights.
"I am so grateful there are so many professional women in our industry who have been such a huge help to Bobbie and me in the planning and execution of this event," Myers-Botts says.
Proceeds from the Women in Pest Control conference will help fund the Professional Women in Pest Management (PWIPM) grants available to women who work in the pest management industry.
For more information or to register, visit the Women in Pest Control conference website.