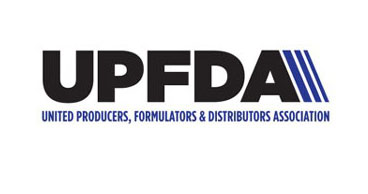 At the end of May, the United Producers, Formulators and Distributors Association (UPFDA) board and members bid a fond farewell to Valera Jessee in her role as executive director. After actively serving in this role for 31 years, Valera is embarking on her true retirement. We all wish our friend and colleague well!
Stepping into her place is the executive management team of Andrea and Kristin Coron. For 25 years, the sisters-in-law have been working together to manage the Virginia Pest Management Association. Their company, Cooper Coron & Associates, also manages industry fraternity Pi Chi Omega, as well as the Virginia Wildlife Damage Management Association.
We look forward to Andrea and Kristin having a positive effect on UPFDA.

2019 spring conference
Members of UPFDA gathered in San Antonio, Texas, at the end of April for our annual spring conference. More than 60 members convened to learn about one another, develop new relationships, and build upon the foundation we provide as suppliers to the pest control industry.
Consultant Eric Maddox thrilled the audience with his keynote address, in which he recounted his interrogations leading to the capture of Sadaam Hussein. He was able to outline techniques he developed for the US government on listening and questioning, and demonstrate how our members can use these skills in their businesses to enhance customer relationships. Lobbyist David Crow, a friend to our industry, gave us some intriguing insight into the politics of Washington, and how it is affecting us currently and into the future. Chris Gorecki, incoming president of the National Pest Management Association (NPMA), reviewed legislation affecting our industry.
(Editor's Note: Please read more from PMP's June 2019 issue with Publisher and Editorial Director Marty Whitford's full on-the-scene coverage of the event here.)

What's next for UPFDA
Planning survey: Last month, members should have received a short survey to help the staff and board focus their efforts in the coming year. Please contact the UPFDA office if you are an active member and did not receive the survey via email.
Board meeting: UPFDA's board met in Atlanta, Ga., Aug. 21 and 22.
Membership events: At the NPMA's upcoming PestWorld event in San Diego, Calif., we will host our annual membership meeting on Oct. 16 at 5 p.m., and our member reception at 6 p.m.

UPFDA's mission
The purpose of UPFDA is to promote the general welfare of the people and companies engaged in formulating, manufacturing and distributing products and services in the pest control industry. In addition, we aim to maintain an active role in making the industry better by striving for a standard of excellence, and promoting better cooperation and relationships between suppliers to the industry and their customers.
One focus of our work is to act as a liaison with government authorities and communicate with them for the good of the community and the pest control industry as a whole.
---
RILEY, president of UPFDA, is also MGK's Eastern regional sales manager. He may be reached at 770-283-9700 or scott.riley@mgk.com.