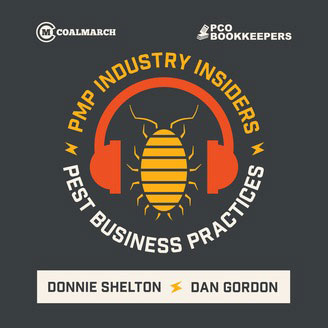 Join "PMP Industry Insiders" podcast hosts Donnie Shelton (Coalmarch, Triangle Pest Control) and Pest Management Professional Financial Columnist Dan Gordon, CPA (PCO Bookkeepers, PCO M&A Specialists), as they pull back the curtain on what growing pest control companies need to know to stay ahead of the competition.
Inspired by the positive industry reception the duo received from their series of webinars this year, Shelton and Gordon plan to use the weekly podcast to bringing pest management professionals "insights and best-kept secrets from leaders who are driving the future of the industry when it comes to operations, finance, marketing, sales, customer experience, and team-building."
The podcast is available on several platforms, including Stitcher, Apple Podcasts and Spotify. Episodes already available for download include:
Tim Mulrooney, William Blair, Impressions of an Investment Analyst: What is it about pest control that piques the interest of Wall Street and private equity investors? Here's a glimpse into what the future of the index looks like, and what you can do to boost the valuation of your business.
Kendall Hines & Erik Alburg, Lawnbot, AI & the Future of Pest & Lawn: Learn how modern tools are opening doors to become more automated, more accurate, and more personalized — and how they may share the future of the way you do business.
Tom Gibbons, F&W Pest Control, Family Ties: Challenges to Scaling a Family Business: Are you a second- or third-generation business owner? Here's practical advice for overcoming challenges to growth that uniquely affect family-owned businesses when it comes to shared decision-making power, succession planning, and company culture.